☂IKLAN YANG MESTI BACA☂
Hello to all my lovey dovey customer...
Kat sini ade iklan sket dan
SGT PENTING!!!
Kami mohon sangat kepada mereka yang mahu membuat pembayaran melalui
MAYBANK2U
dan
CIMBCLICKS
atau dengan kata lain '
ONLINE BANKING
', tolong la follow step kat bawah ni (seperti gambar dibawah) PLEASE..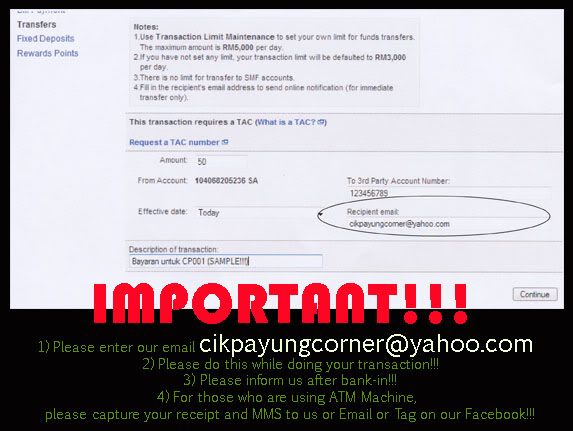 Example for MAYBANK2U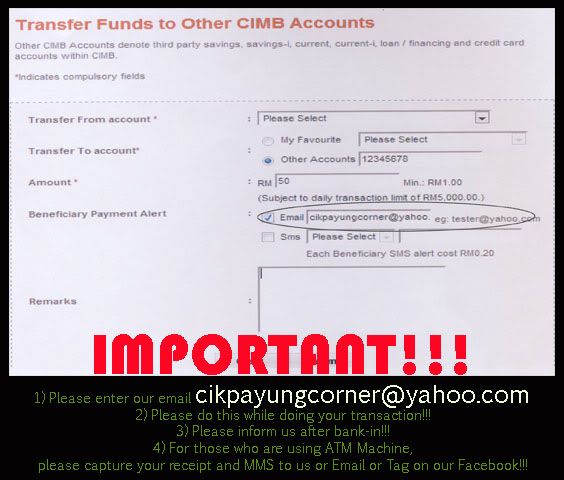 Example for CIMBCLICKS


Cara ni bagi memudahkan pihak kami menyemak nama2 customer yang dah buat bayaran dan sekali gus, step ni bagi
ALERT
yang betul kepada pihak kami...
Dan kepada mereka yang buat pembayaran melalui
MESIN ATM
, u all tolong inform
TARIKH
&
MASA
kat kami atau kalau rajin, leh MMS pic transaksi tu kepada kami or email or tag la kat Fesbuk I tu.. Oh ya, cikpayungcorner dh ada FANPAGE!!!! So, harap2 pasni tidak ada lagi keraguan dengan kami ok??

Oh ya... mintak sangat dan merayu2 la kami pada pihak anda supaya inform kami tentang pembayaran yang telah di buat...
Apapun, selagi kite leh elakkan kesilapan, kite cuba ye (*_*)
Yang baik itu datang dari ALLAH, yang tak baik tu datang dari kekhilafan kami sendiri..
Sekian, Terima Kasih
regards,
cikpayungcorner
with luv bucks!!!